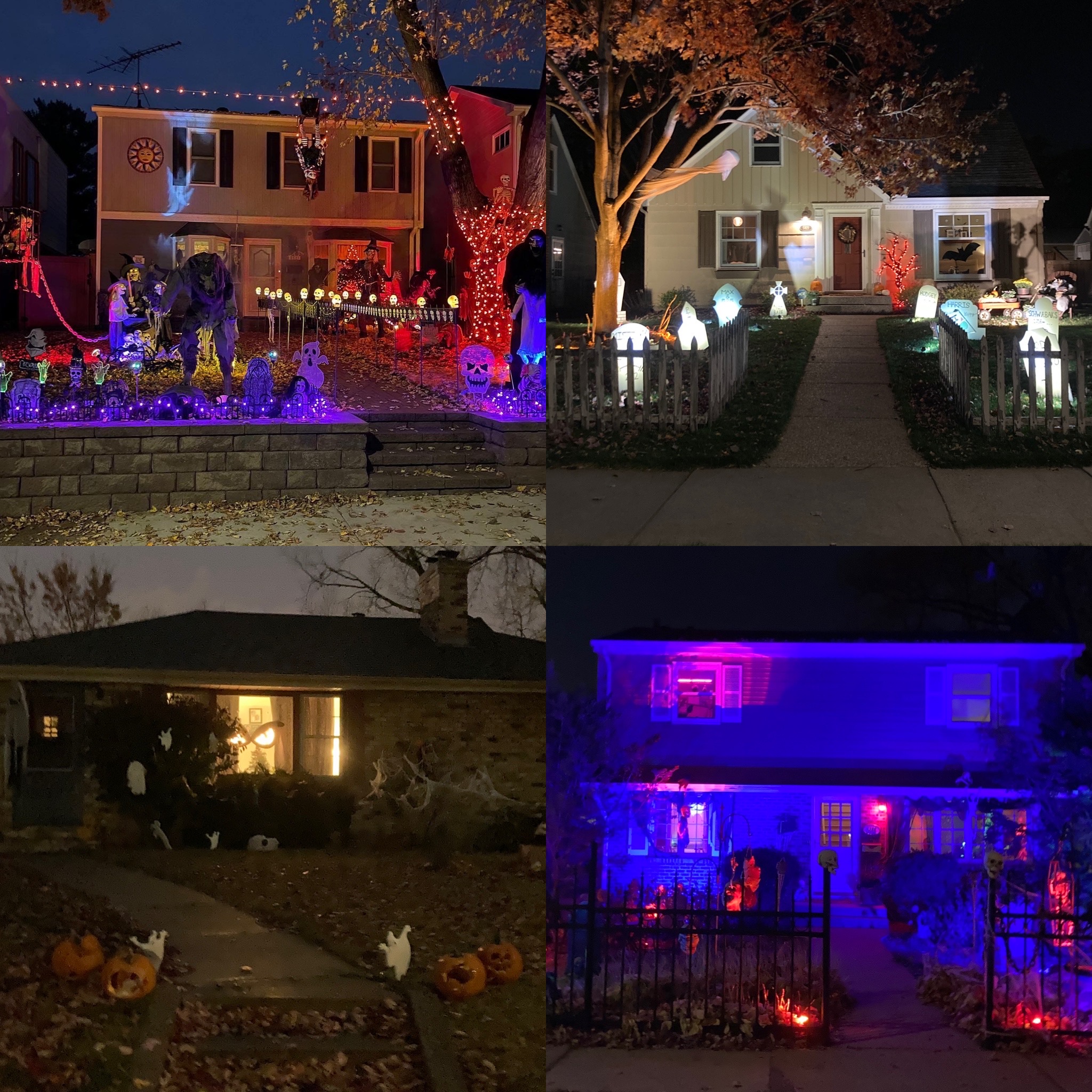 Halloween Tour Results are In!
Thank you to everyone who hosted a display, participated in the tour, and voted in this year's Halloween Tour!  The results are in and voting was close this year!
Huge thanks to Book Club for generously donating a $50 gift card to each of the following displays:
Best use of Pumpkins: 5642 Oliver Ave S (bottom left)
Spookiest: 5621 Morgan Ave S (top left)
Kenny Neighborhood Fave: 5428 James Ave S (bottom right)
Armatage Neighborhood Fave: 5821 Sheridan Ave S (top right)
A few quick stats about this year's Halloween Tour:

23 total displays
92 total votes
3,225 tour map views
Visitors were from Minneapolis and all over the Twin Cities (Maple Grove, Burnsville, South St. Paul, Woodbury, Edina, Richfield, St. Louis Park)
We had such a blast partnering with our neighbors in Kenny on this year's tour and are already excited to team up again for the Holiday Light Tour in December!  Look for the sign-up this month!
---

Kenny/Armatage Halloween Tour
Mon, Oct 24 – Mon, Oct 31, 2022
6pm – 8pm
Enjoy the sights and frights around Armatage AND Kenny for this year's Halloween Tour! The tour is self-guided and great for all ages. The tour map is now available here (see below!) and at kennyneighborhood.org.  Friendly reminder: please be respectful of others on your adventure and minimize idling if you drive.
---
Voting
Once you've visited every address on the tour, head back here to vote for your favorites in the following categories. The displays with the most votes in each category will get a $50 gift card generously donated by neighborhood favorite, Book Club Restaurant! Voting is completely optional and results will be released on Tues, Nov 1!
Spookiest
Best Use of Pumpkins
Armatage Neighborhood Fave
Kenny Neighborhood Fave
---
Tour Map