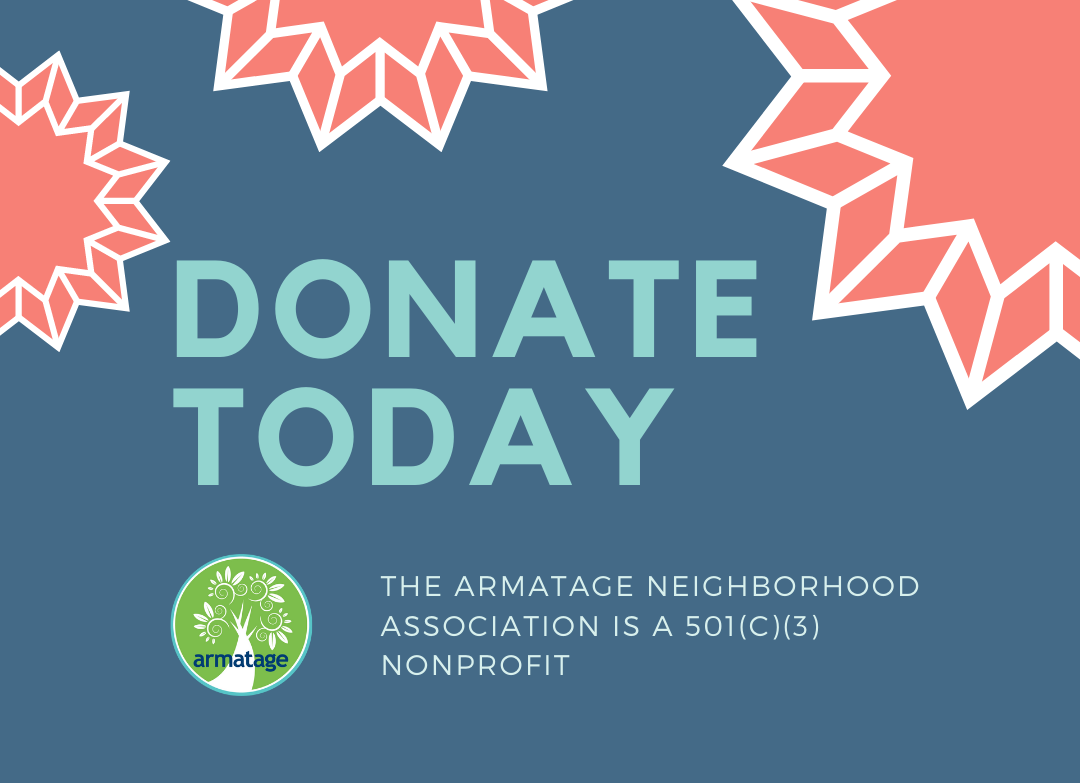 All are welcome to join an Armatage meeting!  Register for the monthly Board, Green Team, Community Engagement or Safety, Equity & Outreach Meetings at bit.ly/ANAmtgs
Donations drive our work. Click here to support the ANA!
---
Halloween Decoration Tour
Enjoy the sights and frights around Armatage for our second annual Halloween Decoration Tour! The tour map is available at armatage.org/halloweentour/

Voting: Once you've checked out each tour stop, head back to armatage.org/halloweentour/ to vote for your favorites! The top display in each of the following categories wins a $50 gift card to an Armatage business: Best Use of Pumpkins, Spookiest and Neighborhood Favorite. In the spirit of fairness, please hold off on voting until you've visited every stop. Happy Halloween!
---

Candidate & Charter Education Forums
We teamed up with our neighboring communities to host non-partisan City Council and Park Board candidate forums as well as an educational series on the proposed charter amendments to help you get ready for Election Day on November 2!  Find recordings from each forum at armatage.org/voter-education-forums/
---

All Are Welcome Here Lawn Signs

Get your All Are Welcome Here lawn sign and proudly display it to spread the message that ALL are Welcome in Armatage! Signs + stakes are $20 each and your tax-deductible donation goes to supporting the ANA's work in the community. Order online here.
---
Armatage Safety Rebates
Did you know that the ANA offers $100 per household per calendar year to each Armatage household (both renters and homeowners) for security enhancements including items such as doorbell camera systems? Learn more and apply for a rebate at armatage.org/security-rebate-program-for-residents/
---

Get Involved & Join an Armatage Committee

Neighbors are encouraged to join and get involved as a volunteer on an Armatage Committee. Meetings are currently held in-person and move to Zoom in case of rain. Register at https://bit.ly/ANAmtgs
Safety, Equity & Outreach meets the first Saturday of the month from 10:00-11:00am outdoors at Armatage Park.
Community Engagement meets the first Thursday of the month from 6:00-7:00pm at Armatage Park.
The Green Team meets the second Thursday of the month from 7:00-8:15pm outdoors in neighbors backyards (register to get each month's address).
---
The Armatage Neighborhood Association (ANA) was founded in 1991 as part of a citywide effort to increase opportunities for residents to connect with local government and to allow neighborhoods to address local concerns.
Located in the southwest corner of the city, Armatage neighborhood is bounded by:
the north by 54th Street W
the east by Logan Ave S
the south by Hwy 62 (Crosstown)
the west by Xerxes Ave S