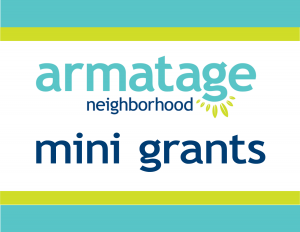 How can we make our neighborhood a better place and engage our neighbors? If you have ideas and want to implement them, the ANA has just launched a new Armatage Neighborhood Mini Grant Program. Grants are available for up to $1,000 and subject to the City requirements that prohibit spending on food or entertainment. See below for more details and to download an application. The deadline to apply for 2019 is June 15. Award notifications will be made by August 1, 2019 and grant recipients will have up to a year to complete their projects.
---
IMPORTANT dates:
May 21, 2019: Mini Grants Q&A at the ANA Annual Meeting (6:30pm at Armatage Park)
June 15, 2019: Mini Grants Application submission deadline
August 1, 2019: Mini Grant recipients announced
WHO can apply: Funding is available to applicants who currently live or operate in Armatage neighborhood (bound by 54th Street to the North; Logan Avenue to the East; Highway 62 to the South; and Xerxes Avenue to the West.) This includes individuals, businesses, schools, nonprofits, and community organizations. Unfortunately we cannot fund religious institutions.
WHAT can be funded: Projects that support, strengthen and/or engage the Armatage community.
WHAT cannot be funded: Planning expenses, operating expenses (emergency funds, budget deficits, fundraising, wages), capital expenses (building improvements, renovations, purchases), religious or partisan political activities, equipment, entertainment, food and beverages.
ABOUT Mini Grants funding:
Each applicant may submit no more than one grant application per cycle.
Grants are awarded for projects that best reflect the purpose of the Mini Grants Program and fit the Selection Criteria (see below).
Grant awards do not exceed $1,000 per project.
Every cycle, ANA will award up to four grants. In 2019, there will be one grant cycle.
Grantees have one year from being notified of their award to complete their project and report back to the ANA.
HOW to apply: Download the ANA Mini Grants Guidelines and Form, complete it and submit to anacoordinator@armatage.org or send it the ANA at 2500 West 57th Street, Minneapolis, MN 55410.
Selection Criteria (not in order of importance): The Review Committee will use these criteria to evaluate each proposal and recommend strongest proposals for Board approval.
Demonstrated need: Why is funding for this project needed?
Clear benefit to Armatage neighborhood: What will be the project impact on the neighborhood?
Innovation: How does this project address a need in a new way?
Likelihood of success: What is the likelihood that the project will be successfully implemented? Does the applicant have capacity to execute the proposed project?
Collaborative approach: How does the project engage the Armatage neighborhood?
Timeframe for implementation: How long will the project take to complete? Can it be sustained over time?
Review Process and Review Timeline:
Proposals will be reviewed once per year by the ANA Mini Grant Review Committee, composed of selected ANA Board and community members who are not affiliated with any of the grants up for consideration. This Committee will evaluate each proposal based on the Selection Criteria (see above) and will make recommendations for approval to the Board. Grant awards will be finalized by Board vote. The Board reserves the right to reject Committee grant award recommendations.
Questions? If you have any questions or need assistance, contact anacoordinator@armatage.org