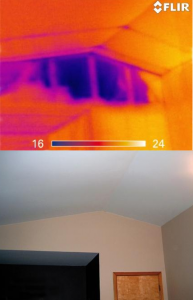 As the weather gets colder, we all feel the drafts and air leaks at our homes, rentals and businesses a bit more.
Thanks to a project in the neighborhood led by Armatage resident Milo Oien-Rochat, you can check out a thermal camera to pinpoint temperature-related energy waste in your home, business, or apartment.
After checking out the camera for a week and taking thermal pictures of your space, you'll get accurate information on air leaks and energy waste as well as helpful ideas to make easy energy efficiency improvements.
How it works:
Sign up to check out the thermal camera here.
Then, look for an email to schedule an outdoor distanced 15 minute training (please wear a mask), send a $100 refundable deposit to the ANA via PayPal or bring a check, and pick up the camera.
After taking images of your space, bring the camera back for your deposit and get resources to use what you learned to make energy efficiency upgrades.
This project is funded through the Armatage Neighborhood Mini Grants.
Rebates and contractors:

Heat by natural gas:
Heat by electricity: