The Armatage neighborhood was originally part of Richfield, but was annexed to Minneapolis in the mid-1920s.
Homes in the neighborhood began to rise up in the 1940s, and by 1960 most of the neighborhood was estab­lished. In 1952, the Armatage Community School was built and named in recognition of a distinguished leader by the name of Maude Armatage. During her active years she was tireless in her efforts to improve the civic, cultural, leisure time, and educational life of this community.
Ms. Armatage served as a member of the Minneapolis Board of Park Commissioners for 30 years and was instrumental in developing one of the finest park systems in the country at the time. Her interests were broad in scope, among which included education and recreation for children and adults. She was responsible for a resolution establishing joint use of school board and park board facilities for recreational purposes. She was a pioneer in the campaign for women's rights and became actively engaged in the issue at a time when it was unpopular to do so. Her devotion to duty and integrity, as well as her pleasing personality, love for children, and outstanding character, were hallmarks of her life. Since that time, the neighborhood has continued to grow and develop in the direction first inspired by Maude Armatage.
---
Minneapolis Tribune article about Ms. Armatage from Sept 17, 1978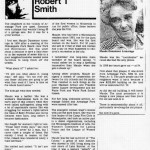 SW Patch article from March 28, 2011 Maude Armatage, Pioneering Park Board Commissioner
About Maude via Cafe Maude
---
Park Acquisition and Development
View historic aerial photos of the area