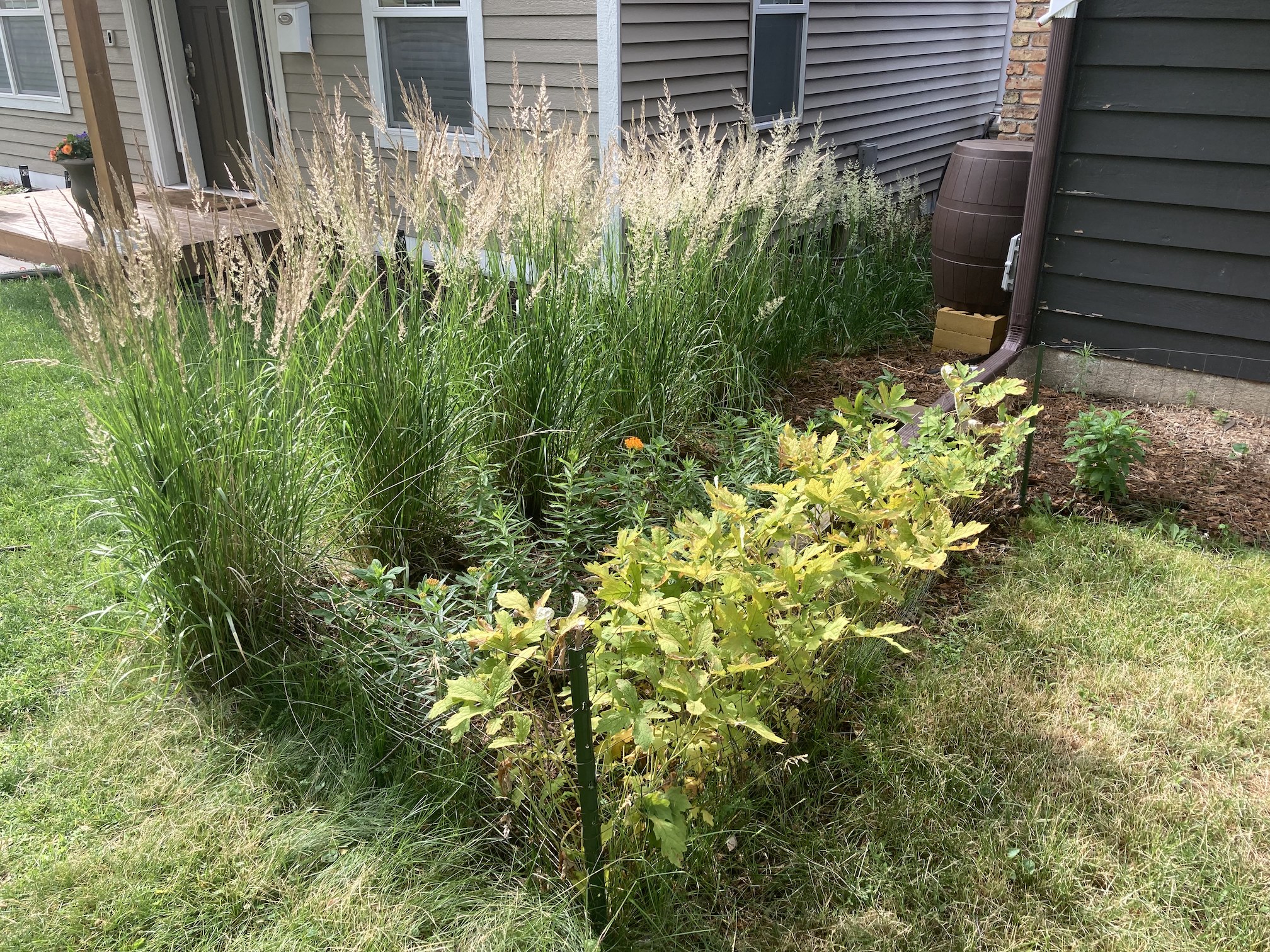 Neighborhood Rain Garden Gallery

Curious what rain gardens look like as they get established? We have a new gallery of Armatage rain gardens for you to check out!
---

Program Info
The 2021 Rain & Native Program application period is closed for the season. Thank you for your interest and please check back next spring!

For the past four years, the Armatage Neighborhood Association has teamed up with local nonprofit, Metro Blooms, to help Armatage residents install a low cost rain garden.
Slots are filled in order of sign-ups. After you apply, you will be contacted to either schedule a virtual consultation or placed on the wait list. Virtual consultations start right away in the spring.
---
 Fees and Grants
Participants typically pay an average of $300-$450 for their new garden and are responsible for picking up their plants, getting them in the ground and maintaining the garden.
We know that the regular cost is a stretch for many, so the ANA offers additional need-based grants for residents who meet income guidelines (see below).
If you qualify for a need-based grant, it should bring your total cost to $350 or less, depending on the size of your garden and the level of grant for which you qualify. Please let us know when you apply if you qualify for an additional grant.
---
How it Works
Up to 15 properties in the neighborhood will be able to participate in the program and both renters and home owners are encouraged to apply:

Renter assistance: not being the property owner at your rental can be a challenge, so our friendly Green Team members will help you get your garden established for the first couple years, even if you move.

Space is limited so if you don't receive a slot, you will be placed on our waitlist and have the first chance to sign up for a slot in future years.
All participants will receive a consultation with a landscape designer, rain garden design, and installation by Metro Blooms, which is a $2000 value!
Installations are tentatively scheduled for June. Participants are responsible for picking up their plants, following the planting guide from Metro Blooms to get them in the ground, and maintaining their new garden.
A Note on Covid-19: Metro Blooms and crews did a fantastic job of keep visits and installations as safe as possible for both participants and staff.  If you have any additional COVID-related requests, please let us know in your application.
---
Armatage Garden Count

2018: 12 rain gardens
2019: 17 rain and native gardens
2020: 15 rain and native gardens
2021: 15 rain and native gardens
---
Benefits of Rain Gardens
When placed to capture rainwater runoff before it leaves your yard, rain gardens are beautiful and functional landscaping features that protect nearby lakes and rivers.
Rain gardens use native plants to filter rainwater runoff through the soil, instead of flowing into storm drains, and provide year round food and habitat for pollinators!