November Meeting Highlights
Safety Update

Special guests: new 5th Precinct Inspector, Kathy Waite & Assistant Minneapolis City Attorney- 5th Precinct Community Attorney, Matthew Wilcox
Updates from Crime Prevention Specialist, Jennifer Waisenen

Most crimes in our area are to unlocked autos or dwellings
The couple of break-in burglaries are believed to be by the same individual and the investigation is underway
Package thefts (tips below)
You can let the police department know when you are going to be away for an extended period of time (through 311 or Jennifer Waisenen) and they will increase patrolling in our area.

City Updates

54th Street construction is halted until next spring
The light at 60th & Xerxes should be operational shortly
Budget hearings are underway and public hearings are listed on the City website
Ward 13 will be hosting a forum on Islamophobia on December 12 (watch for more details). Invited panelists include Representative Keith Ellison and City Council Member Abdi Warsame.

Neighborhood Association Updates

Tree lighting and charity drive on 11/25 (details below).
Currently all FixIt Loan funds have been extended. Participating neighborhoods to reconsider increasing funding or reinvesting program income.
We will be reaching out to renters in our area to help us learn more about their needs. Event to be held Saturday, January 7 (details to come soon).
We have begun to evaluate our park needs (both at Washburn and Armatage locations) in preparation for the Southwest area parks evaluation in 2017 to best know what we'd like to see in the comprehensive plans that will be developed.
---
Inaugural Armatage Winter Tree-Lighting & Charity Drive
New this year!
Friday, November 25
7:00pm at Armatage Park
The ANA is holding a tree-lighting ceremony at the park on Friday, November 25, at 7 p.m., to bring the neighborhood joy and warmth during the winter months. To help spread some of this good cheer, at the tree-lighting event we will be collecting diapers and formula for area charities (Crisis Nursery & People Serving People).
---
Expecting a package?
Take steps to ensure you get what you ordered
Every year around the holidays, there is an increase in packages ordered online and delivered to homes. This also can come with an increase in thefts when the packages are left unattended outside. Victims usually report the theft to their shippers so the police department may not know the extent of these thefts.
Doorstep delivery can be a crime of opportunity. It could be someone following a delivery truck or it could be someone who happens to be in the area and sees a package delivered.
In looking at the most frequently used delivery services, here are some suggestions the shippers made.
Before you ship, choose the right service for your needs.
Ship the package to a location where you know someone will be available to receive it. Consider selecting the "signature required" option.
Send any FedEx package directly to a FedEx Office location near you or choose from several delivery options. You can have it held for pickup at one of the stations. You can go to fedex.com to find the nearest location or call 1-800-GO-FEDEX.
UPS also has stores that a package can be routed to and have several options for delivery choices. Their information is UPS.com or 1-800-PICK-UPS.
The United States Postal Service has a number of ways to track and secure safe delivery for your packages. You have options on how you want the package delivered as well as tracking and insuring the package. Many of their tips are similar to UPS and FedEx. More info: usps.com
As neighbors, if you see something suspicious such as a person picking up a package off your neighbor's front step or a car following a delivery van, please call 911 immediately.
If you are a victim of this crime, please contact 311 or file a police report online. If you have suspect information, call 911.
Depending on who was set to deliver your package, you can also file:
If you used another carrier, check with them on what you need to do in order to file a report for a lost or stolen item.
---

Yard waste collection has ended
Yard waste collection ended last week for 2016 season. If you still have yard waste that you'd like to get rid of before collection begins again next Spring, please call our office (612-673-2917) or visit Hennepin County's Green Disposal Guide for a list of yard waste drop-off locations and alternative disposal options.
---
Unsigned Street Parking Restrictions
Many parking ordinances have traffic signs indicating that curbside stopping or parking is prohibited or restricted. However, some ordinances do not require signs to be posted. These ordinances address safety issues common throughout the city. To sign all of these locations is not practical. Vehicles parked in violation of these ordinances create a hazard for the safe passage of other vehicles and/or pedestrians. The most common of these parking ordinances include:
Too close to a stop sign or Traffic Signal – vehicles are not allowed   to park within 30 feet of the approach side of a stop sign or traffic   signal unless otherwise indicated by a parking meter or traffic sign.
Blocked driveway – vehicles are not allowed to park within 5 feet of a  private road, driveway, or alley.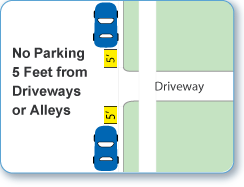 Blocked fire hydrant –   vehicles are not allowed to   stop, stand or park within 10   feet of a fire hydrant, except   when necessary to avoid   conflict with other traffic, or in   compliance with the directions   of a police officer or traffic   control agent.
Railroad Crossing – vehicles are not allowed to park within 50 feet of the nearest rail of a railroad crossing.
On a sidewalk – vehicles are not allowed to stop on sidewalks, sidewalk crossings or boulevards.
These ordinances discourage motorists from leaving their vehicles in a manner that would pose a safety threat or inconvenience to other drivers or pedestrians.