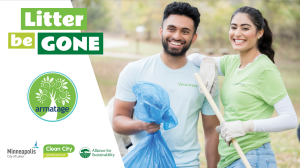 Join the Armatage Green Team to help clean up our neighborhood streets and sidewalks as part of the citywide Litter Be Gone events! This is a great, meaningful opportunity for kids, teens and adults to show our neighborhood pride and keep trash and recycling from ending up in our waterways. Sign up to volunteer here.
Saturday, October 5
9:00-11:00am
Meet at Book Club (5411 Penn Ave S) for hot apple cider and to pick up supplies and maps of our clean-up locations. Litter Be Gone provides everything we need including gloves, grabbers and bags.
After the event, all volunteers will get to enjoy 50% off food at Book Club and a coupon for a free drink at Minneapolis hot spots.
Ready to take the lead? Check the box on our sign-up form to be a team leader and get a free download for a Chinook Book.
Huge thanks to Book Club for supporting our event and to Litter Be Gone Minneapolis! Volunteers who live outside Armatage are very welcome to register. Contact anacoordinator@armatage.org with questions. In case of inclement weather, we'll push to October 12.