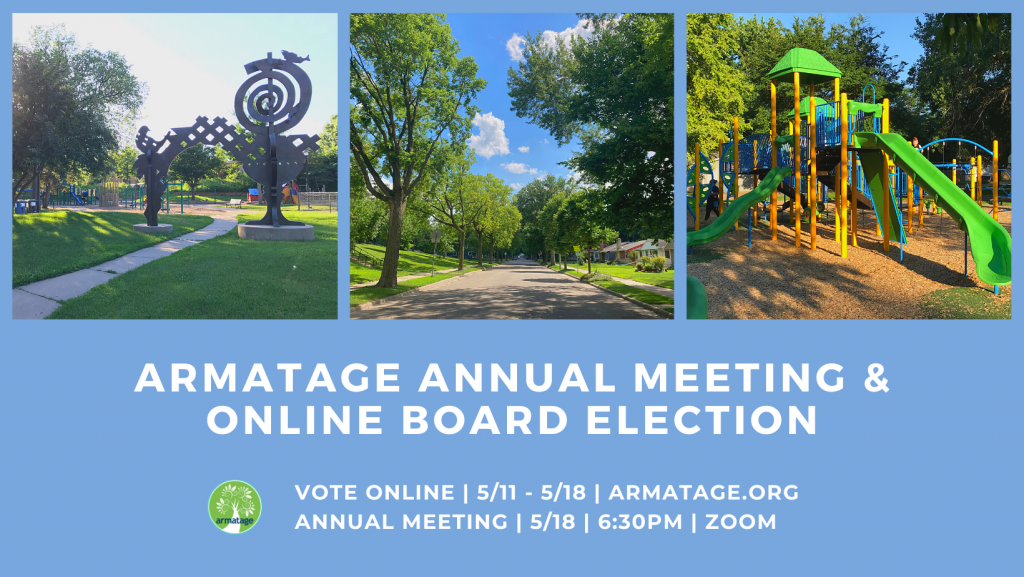 Join your neighbors for a virtual Armatage Annual Meeting & Board Election on Zoom!
Virtual Annual Meeting
Tuesday, May 18
6:30-8:30 PM | Zoom
Connect with elected representatives, hear how the leaders of Armatage Reparations & Equity Action (AREA) are helping neighbors renounce racial housing covenants on their Armatage homes, learn what the neighborhood is up to, and enter to win a $25 gift card to an Armatage business (must be present to win).  Register to attend at bit.ly/anameetings
---
Join the Board
Please consider supporting your community and running for the board. Board members have a critical role in shaping our neighborhood nonprofit for years to come.
We especially encourage members of under-represented communities to run, including renters, seniors, residents with disabilities, and residents who identify as LGBTQ+ or BIPOC (Black, Indigenous and/or People of Color).
Monthly meetings are held the third Tuesday of each month and the total time commitment is approximately 5-6 hours/month. Board members are expected to participate in these monthly meetings as well as serve on a committee, volunteer at events and help with organizational planning. If elected, your term will run from May 2021 – May 2023. Bylaws that govern our non-profit organization are posted at https://armatage.org/ana-bylaws/ 
The deadline to register to run is May 9. Click on the link below to enter a bit about yourself and why you want to run along with a picture. If you have any questions about this process, please contact our Coordinator, Lauren, at anacoordinator@armatage.org.
---
Vote in the Online Board Election

Online voting will be available from May 11 through May 18 at 7:00pm through a form posted here and linked at armatage.org.
All Armatage residents 18 years and older and designated business and institutional
representatives are eligible to vote in the election and help select the next ANA Board. Election results will be announced at the Annual Meeting on May 18 and online the following day.