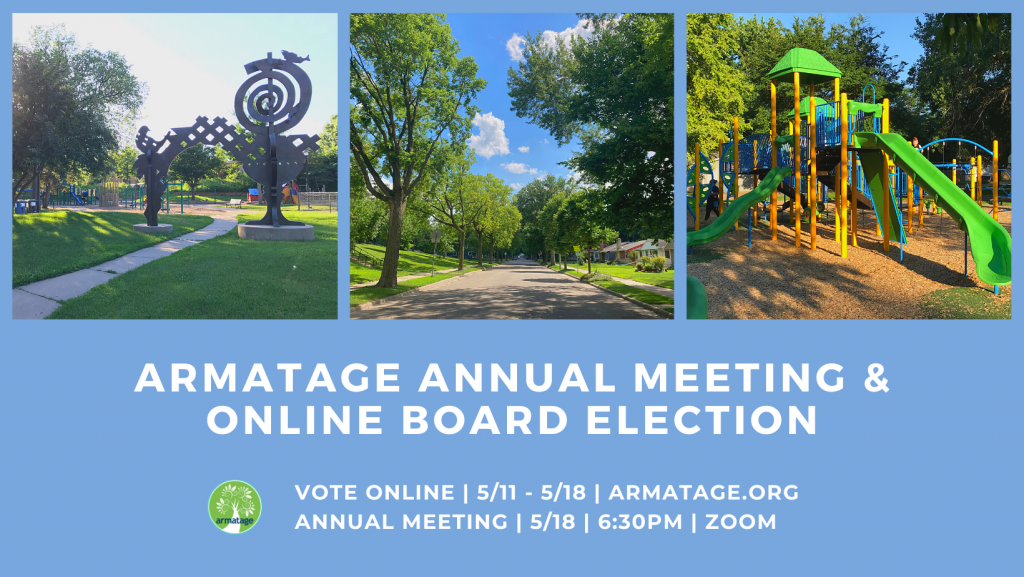 Board Election Results
Congratulations to new board member Eli Johnson and returning board members Joel Federer, Vicky Goberdhan, Ethan Komoroski, Janhel Leandre, and Judy Vecere on their election! Thank you to everyone who voted in the Board Election!
---
Vote in the Board Election

There are six (6) candidates running for the ANA Board of Directors this year. If elected, each candidate's term will run from May 2021 – May 2023.  Learn more about the candidates through the ANA Voter Guide and submit your vote online.
Online voting is open from May 11 through May 18 at 7:00pm. Voting closes during the Armatage Annual Meeting. Election results will be announced at the Annual Meeting on May 18 and online the following day.
All Armatage residents 18 years and older and designated business and institutional
representatives are eligible to vote in the election and help select the next ANA Board.
---
Armatage Annual Meeting
Tuesday, May 18
6:30-8:00 PM | Zoom
Join your neighbors for a virtual Armatage Annual Meeting & Board Election on Zoom!  Register to attend at bit.ly/ANAmtgs
Why attend the Annual Meeting?  GREAT question!  You'll be able to…
Connect with State Rep (and Armatage resident!) Jamie Long, County Commissioner Marion Greene, and Council Member Linea Palmisano,
Hear how the leaders of Armatage Reparations & Equity Action (AREA) are helping neighbors renounce racial housing covenants on their Armatage homes,
Learn what the neighborhood is up to and all the great things planned for this year,
Enter to win a $25 gift card to an Armatage business (must be present to win).
Annual Meeting Agenda
Welcome and Introductions (6:30pm)
Connect with Elected Representatives (6:40pm)

Council Member Linea Palmisano
County Commissioner Marion Greene
State Representative Jamie Long

AREA (Armatage Reparations & Equity Action) (7:15pm)
Neighborhood Update (7:35pm)
Election Results (7:55pm)
Door Prize Drawing (8:00pm)