Another year impacted by COVID-19, but volunteers and staff had plenty of creativity!  Here's what the ANA did in our community:

January Let's Talk About Plastic series
In January, the Armatage Green Team & staff hosted a three part educational series on plastic. The first part was a community screening of groundbreaking documentary, The Story of Plastic. Next, we hosted a community discussion on the film. Last, a panel of fabulous speakers from the City of Minneapolis, Eureka Recycling and Tare Market shared the problem with plastic AND practical solutions. We had hundreds of participants from around Minnesota and were so excited to host this series!
---

Reading Circle
From February through September of this year, a group of Armatage neighbors and Green Team members read and discussed All We Can Save: Truth, Courage and Solutions for the Climate Crisis, first on Zoom and then outside. This was a slothful book club where members only read a chapter a month so they could fully dive into the content together. It was so successful that the next Reading Circle is planned for 2022!
---

Solar Workshop
In March, the Green Team hosted another virtual workshop, this time on solar energy with an emphasis on options for renters and homeowners who don't have a roof conducive to solar. An informative speaker from the Minnesota Renewable Energy Society shared on the history of solar and community options.
---

Spring Neighborhood Clean-up
The ANA partnered with the Minneapolis Park & Recreation Board to host a DIY Earth Day Clean-up at Armatage Park on April 26. Volunteers handed out supplies and clean-up teams went into the park and neighborhood to gather trash and recycling.
---

Spring Tea & Blooms
The Community Engagement Committee hosted a Spring Tea & Blooms event outside at Armatage Park on Saturday, May 8. Kids picked up take-home planting kits and free books and did neighborhood scavenger hunts.  Food and drinks were available from Sparrow Cafe, Cafe Ceres, and Jinx Tea.
---
Rain & Native Garden Program
The Green Team again led a low-cost Rain & Native Garden program in partnership with Metro Blooms.  15 rain or native gardens were installed throughout the neighborhood as part of the program and the ANA offered additional assistance to residents who met income guidelines and renters. We also created a NEW gallery of Armatage rain gardens that you can check out at https://armatage.org/rain-garden-gallery/
---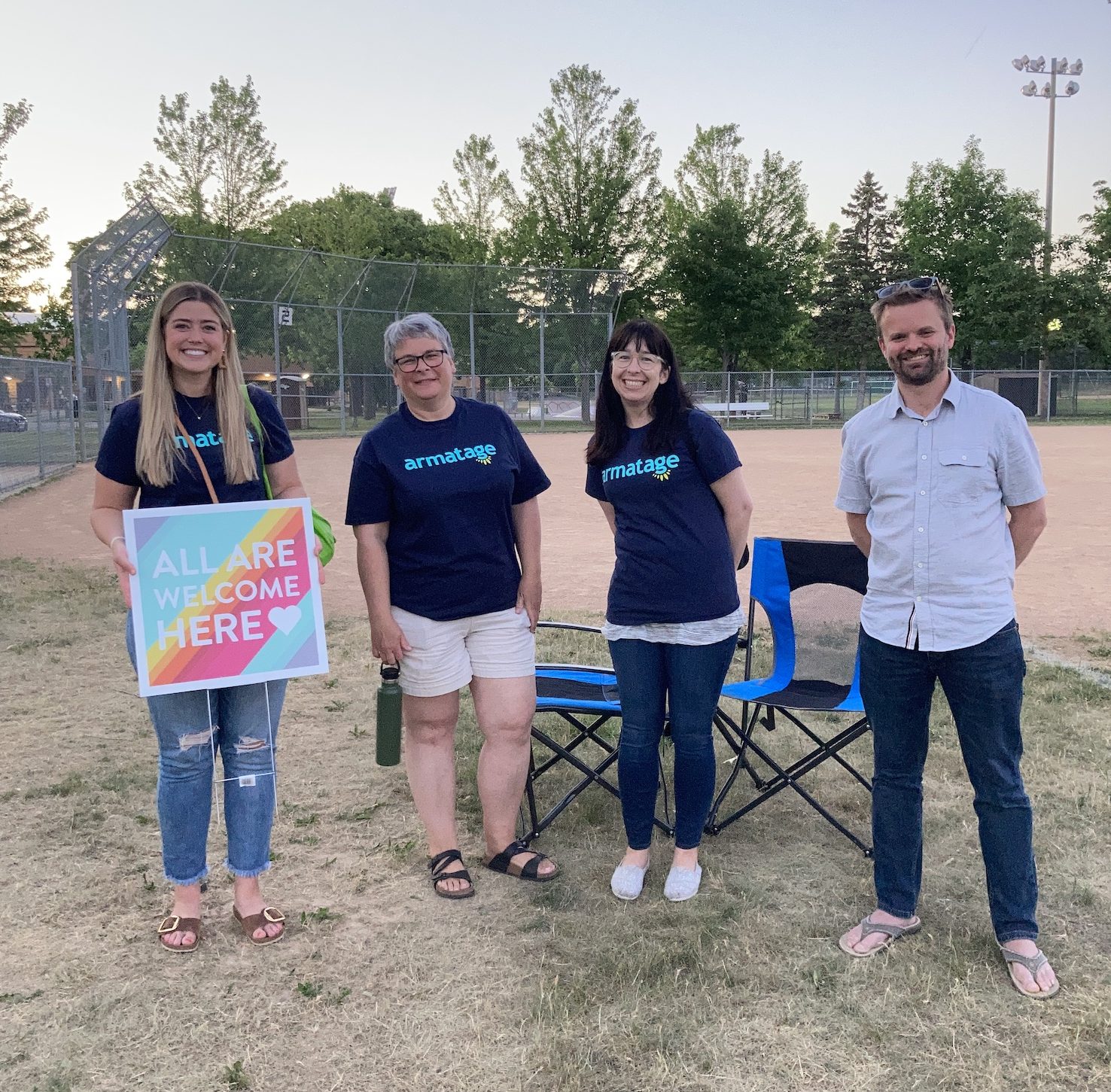 All Are Welcome Here Lawn Signs
The ANA organized this lawn sign campaign to show unity and support for neighbors throughout our community after racist messages appeared around the neighborhood earlier this year. Our goal was to get 100 inclusive, colorful lawn signs into the neighborhood to spread the message that ALL Are Welcome in Armatage!  Volunteers tabled throughout the summer and at events, like the Movie in the Park pictured above. Learn more and get one of the remaining signs at https://armatage.org/allarewelcomehere/
---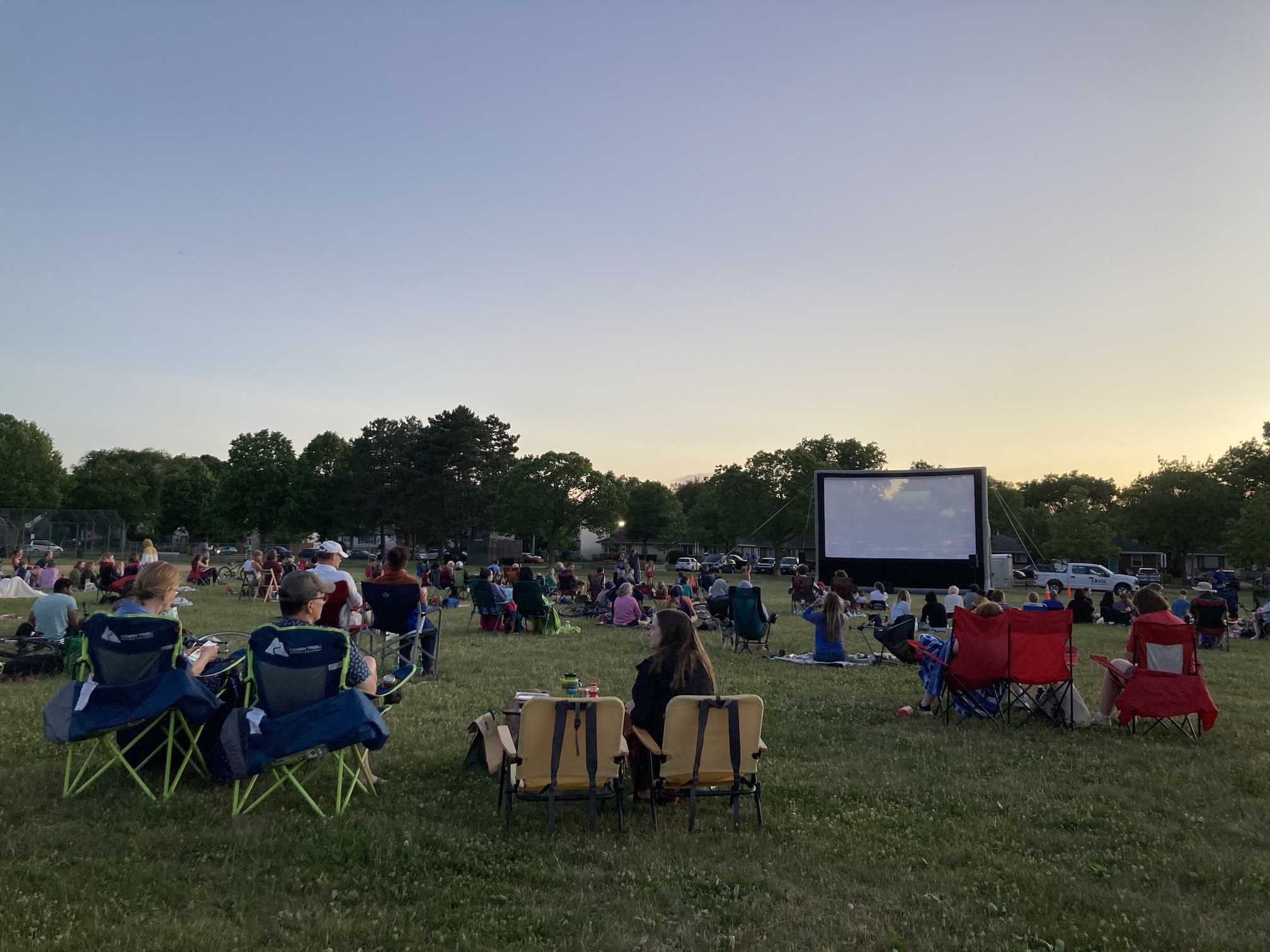 Movie in the Park
At last!  Distanced, outdoor Movies in the Park were back in 2021! On June 12, MANY Armatage neighbors and visitors gathered outside at Armatage Park for Ferris Bueller's Day Off. The Safety, Equity & Outreach Committee tabled with All Are Welcome Here lawn signs before the movie.
---

Summer Food Truck Night
The Community Engagement Committee held a Summer Food Truck Night on August 14 with free hydrodipping art activities, books donated by Jump! Library, and a ton of fabulous food vendors. It was amazing to spend the evening outdoors enjoying good food, music and sunshine with neighbors. Huge thanks to our volunteers, vendors and partners for a great event! Learn more at https://armatage.org/summer-food-truck-night/
---

New Playground at Armatage Park
The Armatage Park Play Area was redone this year! The ANA shared planning surveys, online public hearing info, and information on the project with the neighborhood. When there was a gap in funding for the project, the ANA Board voted to allocate $27,645.21 from a park improvement budget to cover the funding gap for the playground so it could be completed on time and in full. This donation from the neighborhood made two of the three shade canopies (pictured above) and an accessible seesaw possible. Learn more about the project at https://armatage.org/armatage-park-play-area/
---

Meet Your Community Helpers Event
On September 25, the Safety, Equity & Outreach Committee hosted an interactive educational event with the helpers that serve our community. Participating organizations included the US Postal Service, Free the Deeds, Minneapolis Fire Department, Armatage Elementary, Minneapolis Solid Waste & Recycling, Minneapolis Police Department K-9 and Mounted Police Units, Allina Health, Park Board Police, and two amazing health care providers who just happen to be fabulous neighborhood volunteers. Learn more at https://armatage.org/meet-your-community-helpers/
---

Fall Neighborhood Clean-up
We had an awesome team of kids and adults at the Fall Neighborhood Clean-up on October 2! The clean-up was hosted by the Armatage Green Team with most clean-up supplies provided by the City of Minneapolis. Together, volunteers collected 16 bags of trash and 10 bags of recycling from our parks, boulevards, storm drains.
---

Jim Crow of the North Screening & Discussion
A member of the Armatage Safety, Equity & Outreach Committee organized an outdoor screening of ground-breaking local documentary, Jim Crow of the North. Neighbors came together on a Thursday evening at the park to screen the film AND to hear from speakers from Just Deeds and the City of Lakes Land Trust.
---
Halloween Tour
---
Holiday Light Tour