The Armatage Neighborhood Association has remaining, unspent funds and we need your input!
City funding for neighborhood organizations like the ANA expires in 2020. There isn't yet a new plan in place for 2021 and beyond but funding is expected to decrease significantly (or possibly end entirely – see armatage.org/N2020 for more info).
The neighborhood has just over $220,000 remaining and we've drafted a plan to allocate this one-time resource to keep popular programs and community services going over the next 4+ years. We need your feedback on this plan to keep Armatage a livable, lovable community.
Draft Funding Plan:
Here's our plan to allocate these remaining funds to keep popular programs and community services operating for the next 4+ years: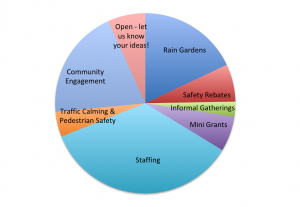 $40,000 for Rain Gardens: Subsidies for renters and homeowners to install a low cost rain or native gardens to minimize runoff, filter and clean groundwater, and increase pollinator habitat
$15,000 for Safety Rebates: Rebates of up to $100 for residents annually for qualifying home safety upgrades. Up to $1,000/yr for businesses (lifetime max of $2,000)
$6,000 for Informal Gatherings: Pop-up events and Neighborhood Happy Hours
$14,000 for Mini Grants: Grants up to $1,0000 awarded to complete a project focused on the Armatage Neighborhood.
$78,500 for Staffing:

$70,000 for Program Implementation: Coordination for ANA's programs, events, communications, volunteer coordination and outreach.
$8,500 for Accounting: Accounting and financials for ANA's work.

$10,000 for Traffic Calming and Pedestrian Safety: Support improvements to neighborhood signage, pedestrian and/or bicycle infrastructure, lighting, etc.
$44,000 for Community Engagement:

$15,000 for Events and Programs: Support Summer Festival, Green Team events, Welcome Bags, park events, and other community programs
$5,000 for Supplies and Materials: Office supplies and materials to support community engagement.
$24,000 for Neighborhood Communications: Armatage News print newsletters, mailing and printing expenses, digital communications and website.

$15,000 – OPEN. What are your ideas for these remaining funds? Tell us below!
Voice your feedback by Friday, November 15:
Text us at 612.466.0296
Email us at anacoordinator@armatage.org
Tell us in person:

Armatage Park Halloween • Friday 10/25 • 6:00-8:30pm
Washburn Tot Lot Play Date • Saturday 11/2 • 3:00-5:00pm
Neighborhood Happy Hour • Tuesday 11/12 • 7:00-9:00pm at Red Wagon Pizza
The final neighborhood and board vote takes place at the November Neighborhood Meeting • Tuesday 11/19 • 6:30pm at Armatage Rec Center. Anyone 18 and older who lives in the Armatage Neighborhood or is a designated representative of a neighborhood business is eligible to vote.