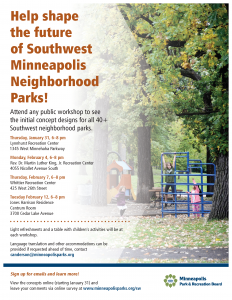 The Minneapolis Park & Recreation Board released initial concept designs for each Southwest park and Minnehaha Creek.
See the designs for Armatage Park, Washburn Tot Lot, the triangle at 58th & Oliver and Minnehaha Creek by clicking on the following link: Armatage Neighborhood_SW and MPRT concepts
---
Your Feedback is Needed!
Take the online survey at the SW Parks Plan project page (open through March 31)
Take the online survey for the Minnehaha Parkway Regional Trail at the project page
Drop off a comment: All 13 Southwest Minneapolis Recreation Centers as well as MPRB Headquarters and Parade Ice Arena have a printed packet of concept designs, along with comment cards and drop-off boxes.
Attend a workshop: each workshop has the same format and park design concepts and includes kids' activities and refreshments.
Thursday, January 31, 2019, 6:00-8:00 pm                                                                        Lynnhurst Recreation Center, 1345 W Minnehaha Parkway                                                           This workshop will also have information on the Minnehaha Parkway Regional Trail Master Plan.
Monday, February 4, 2019, 6:00-8:00 pm
Rev. Dr. Martin Luther King, Jr. Recreation Center, 4055 Nicollet Ave. S
Thursday, February 7, 2019, 6:00-8:00 pm
Whittier Recreation Center, 425 W 26th St.
Tuesday, February 12, 2019, 6:00-8:00 pm
Jones-Harrison Residence, Centrum Room, 3700 Cedar Lake Ave.